Esclaves Sexuelles sur Catalogue (1977).



Sarabande porno
Details
Released: 1977
Director: Claude Bernard-Aubert as Burd Tranbarée
Notes: VHS 1 hr 22 mins, Blue One DVD (1 hr 2 mins) with Les Plaisirs fous and Soirée d'un Couple Voyeur
Alternate Titles

* L'Asta dell'amore Italy
* Esclaves sexuelles sur catalogue video and later DVD title
* Porno-Sklaven West Germany, Venus
* Slave Girls Market

Actresses

* Amanda in dinner party scene
* Brigitte Lahaie
* Danièle Troeger plays Francoise
* Doris Wessoly Odile
* Elisabeth Buré ? (brunette)
* Emmanuelle Parèze
* Erika Cool plays Irma
* Karine Gambier plays Julie
* Liliane Lemieuvre as Liliane Allan
* Maude Carolle as Aude le Cocq, plays Muriel
* Sophie Bulle ?
* Véronique Maugarski
* XNK0390
* XNK0391
* XNK0392


Males -

* Bernard Hug plays Charlie
* Richard Lemieuvre
* Jacques Marbeuf
* extras

Blonde Odile (XNK0389), is a colleague of draughtsman Charlie and we see them briefly in his office.

Charlie and girlfirend Francoise go to the house of Richard Lemieuvre to find him being tended to by Brigitte Lahaie and Karine Gambier - various sexual activity follows, swapping etc. He has hired these from a 'slave auction' of some sort. Not satisfied with Karine, Richard returns her to the shop and he and Charlie view an auction of two brunettes and a blonde (XNK0390, XNK0391 and XNK0392) and then Erika Cool as "Irma".

Charlie hires Irma and takes her home. Francoise finds them at it and joins in. Richard then arrives with his new girl Muriel (Maude Carolle) and they have a 5-some. Francoise now wants to be auctioned. they take her to the auction and before she is paraded, there is an orgy in the changing rooms including various of those already seen plus a brunette who of whom it was difficult to get a clear view.

Francoise is auxtioned off - a missed opportunity here as we should have seen her experiences. Elisabeth Buré seems to be one of the girls here, as a brunette.

Charlie hires another blonde - longer curly hair who seems to be his original colleague (XNK0389).

At yet another auction auction - which includes Karine Gambier as "Julie" - the curly blonde is bought by Jacques Marbeuf.

Then there is a male auction - Richard Lemieuvre and "Charlie" (now called Jean-Pierre) are bought by Emmanuelle Parèze. She has her way with them and then has a dinner party for herself and three other women at which the men serve as waiters naked from the waist down. The women are Liliane Lemieuvre, XNK0123 and XNK0393.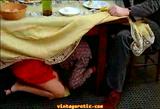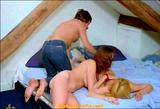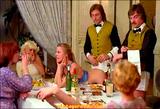 http://rapidshare.com/files/120342621/Saranbande_Porno_1_.AVI.001
http://rapidshare.com/files/120343985/Saranbande_Porno_1_.AVI.002
http://rapidshare.com/files/120350145/Saranbande_Porno_1_.AVI.003
pass:
www.vintagerotic.com
***************************************************************************************************
Sarabande porno (1977)
---
Sarabande Porno
Year: 1977
Runtime: 01:01:40
Cast: Brigitte Lahaie, Amanda, Daniele Troeger, Elisabeth Bure, Emmanuelle Pareze, Erika Cool, Karine Gambier, Liliane Lemieuvre, Maude Carollel, Sophie Bulle, Veronique Maugarski, Bernard Hug, Richard Lemieuvre, Jacques Marbeuf
http://hotfile.com/dl/21907935/dedf4fe/Sarabande_Porno.part1.rar.html
http://hotfile.com/dl/21907040/e981ba5/Sarabande_Porno.part2.rar.html