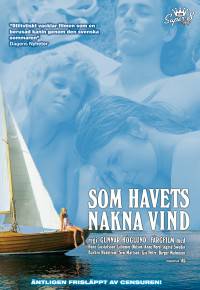 http://www.imdb.com/title/tt0062619/
"One Swedish Summer" (U.S. release title) is a forgotten gem from the days when skilled directors were at the helm of exploitation films, and while a fascinating viewing experience, it also serves to demonstrate just how thoughtless and pedestrian these kinds of films have become lately, assuming such films are even still being made.
A handsome young male classical violinist experiences his sexual awakening one summer when a trio of Nordic beauties travels to his hometown, which is out in the middle of the Swedish nowhere, which, of course, is the reason why everyone swims nude. Anyway, the boy's home life is a little stifling, as his mother and other female relatives (his father is dead, thus he is the only male in the house) tend to smother him. In an early scene, he gets up from his bed completely naked and stands in front of his elder relatives in order to prove he is a grown man, and then his teenage sister comes dancing into the room with her transistor radio pressed to her ear, but upon seeing her brother's nudity she forgets the music and develops a serious lust for him. He then has a sexual encounter with a female by the sea on the rocks as his also naked sister watches with obvious jealousy. Days later, swimming nude again, he runs smack dab into the Nordic trio of cuties, all of whom, as we see through flashbacks, have developed odd sexual hangups, one of whom being raped by a priest which causes her to re-enact the scenario for pleasure again and again, and eventually does so with our hero, in a perverse scene that is quite out of place in this otherwise conservative yet butt-naked-flesh-everywhere film. Eventually, the sister's lust boils over and the siblings are close to giving in to desire.
"One Swedish Summer" boasts beautiful location photography as well as exquisitely beautiful music on the soundtrack, a combination of classical baroque and late 60's Europop. This is contrasted with close-up shots of female pubic regions, full-frontal male nudity, and several brushes with themes of voyeurism and sadomasochism. The cast is especially good, with lead brother and sister Hans Gustafsson and Lillemor Ohlson playing their roles with much verve, and Swedish exploitation kitten Gio Petre is on hand, usually topless, in a couple of scenes. The film runs about ten minutes too long, but if you want to see a high-class production that deals with mature themes, you will thoroughly enjoy "One Swedish Summer", and viewing the film will probably make you yearn for your summers gone by.
this can't be found anywhere & neither can it be purchased
all files are splitted into 100mb total length 1.9GB
RS Links (all in rar files no pass)
http://rapidshare.com/files/255705235/SHNV.part01.rar
http://rapidshare.com/files/255719283/SHNV.part02.rar
http://rapidshare.com/files/255731898/SHNV.part03.rar
http://rapidshare.com/files/255743937/SHNV.part04.rar
http://rapidshare.com/files/255755825/SHNV.part05.rar
http://rapidshare.com/files/255775520/SHNV.part06.rar
http://rapidshare.com/files/255790828/SHNV.part07.rar
http://rapidshare.com/files/255803422/SHNV.part08.rar
http://rapidshare.com/files/255816552/SHNV.part09.rar
http://rapidshare.com/files/255830463/SHNV.part10.rar
http://rapidshare.com/files/255844335/SHNV.part11.rar
http://rapidshare.com/files/255857098/SHNV.part12.rar
http://rapidshare.com/files/255869902/SHNV.part13.rar
http://rapidshare.com/files/255881644/SHNV.part14.rar
http://rapidshare.com/files/255891697/SHNV.part15.rar
http://rapidshare.com/files/255900896/SHNV.part16.rar
http://rapidshare.com/files/255910385/SHNV.part17.rar
http://rapidshare.com/files/255919127/SHNV.part18.rar
http://rapidshare.com/files/255689682/SHNV.part19.rar