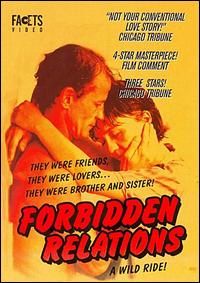 Hungary 1982 (not 1983 as on IMDb). Hungarian dialogue, English subtitles.
Not copied from the videocassette. This posting is taken from a disc copied directly from the original 35mm print. The picture quality is very good.
First appearance on the Internet.
This film was remade as Delta in in 2008, but the original got much better reviews. Remember that this film is based on a true story. The original is closer to the facts.
Story of an incestuous relationship between a girl and her stepbrother. The couple do not discover their true parentage until they are involved in an affair, but by then they are in love, the girl is pregnant, and on discovering them, their mother reports them to the authorities.
From IMDb.
What a wonderful,touching love story has been placed on film by this great director. I had not expected to be so moved. The camera-work is superb and the viewer feels as tho they are eavesdropping, as indeed they are. When one forgets the camera is there, then this is a true masterpiece. We are caught up in these two people and their "forbidden" love and we share their pain. It is a work of art and I thank Zsolt Kedzi-Kovacs for managing to get this film to the public. ….. The two stars of the film actually did fall in love during production, from which a daughter resulted, so I think that is a lovely "personal touch" to this drama.
password vasakula
http://www.megaupload.com/?d=JKDV0P7Z
http://www.megaupload.com/?d=FRVFE2WJ
http://www.megaupload.com/?d=SSBNCFDS
http://www.megaupload.com/?d=K8M7N4E0
http://www.megaupload.com/?d=HAG3QDNH
http://www.megaupload.com/?d=WYMIYQBS
http://www.megaupload.com/?d=UCTQCMA9
http://www.megaupload.com/?d=U4F5A6QX
http://rapidshare.com/files/268791939/Visszaesok.part1.rar
http://rapidshare.com/files/268791787/Visszaesok.part2.rar
http://rapidshare.com/files/268792132/Visszaesok.part3.rar
http://rapidshare.com/files/268792693/Visszaesok.part4.rar
http://rapidshare.com/files/268792837/Visszaesok.part5.rar
http://rapidshare.com/files/268793004/Visszaesok.part6.rar
http://rapidshare.com/files/268792671/Visszaesok.part7.rar
http://rapidshare.com/files/268792504/Visszaesok.part8.rar